NEWS
This was ASI 2002
Follow the link to see more pictures
(Stop show with a click on the picture)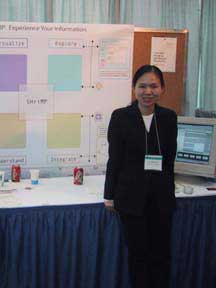 Thesis Workshop I+II
January 29, 2002
February 13, 2002
[pdf Slides]

Meet the Empirical Software and
Data Engineering Groups at UVic!
Welcome to the home page of the empirical software and data engineering groups at the University of Victoria.
Visit our groups page and get to know all the people involved.
Our biweekly colloquium, the Software Engineering Colloquium (SENGCO), is our forum at UVic to present and discuss our latest ideas. It really has become an institution by now. Check out the web page to see lots of interesting talks by our professors, graduate students and many intersting guests from SE engineering fields in reserach and industry. If you are interested, you can to join the SENGCO mailing list on which we announce the presentations regularly.
Find out about lots of interesting events. We're back from ASI 2001. Some of our graduate students even won ASI awards for their poster and presentations.
We are still working on our resource pages that will guide you to our projects, paper database, introductions of research organizations and institutes, and lots of other useful informations, and links. We hope they will provide you with a good starting point for your exploration of the international software engineering world.
Enjoy!